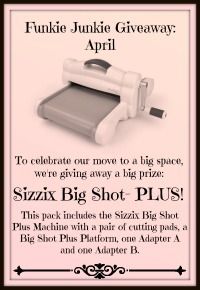 To celebrate the move of The Funkie Junkie Boutique to a bigger space we are giving away a big prize...
A BIG SHOT PLUS!!!!!!!!!
(This pack includes the Sizzix Big Shot Plus Machine with a pair of cutting pads, a Big Shot Plus Platform, one Adapter A and one Adapter B).
To enter, please click in the lower right or left corner of the graphic above or
click this link
.
Sadly due to high international shipping costs, this month's contest is open only to those with a U.S. shipping address. There are four ways to enter - you can find the link on the sidebar and
HERE
. The Giveaway is open until the end of the month, so what are you waiting for!!!
Good luck everyone!